Spring 2023 Enhancements (April 30, v12.6)
Our spring release includes a long requested addition to role and user management as well as dashboard widget additions.
New Dashboard Widgets
There are two new Dashboard widgets in this release:
Recently downloaded files
Recently deleted files
If not seen in your dashboard, click the Configure your Dashboard tool icon in the top right corner of the dashboard and add them from there.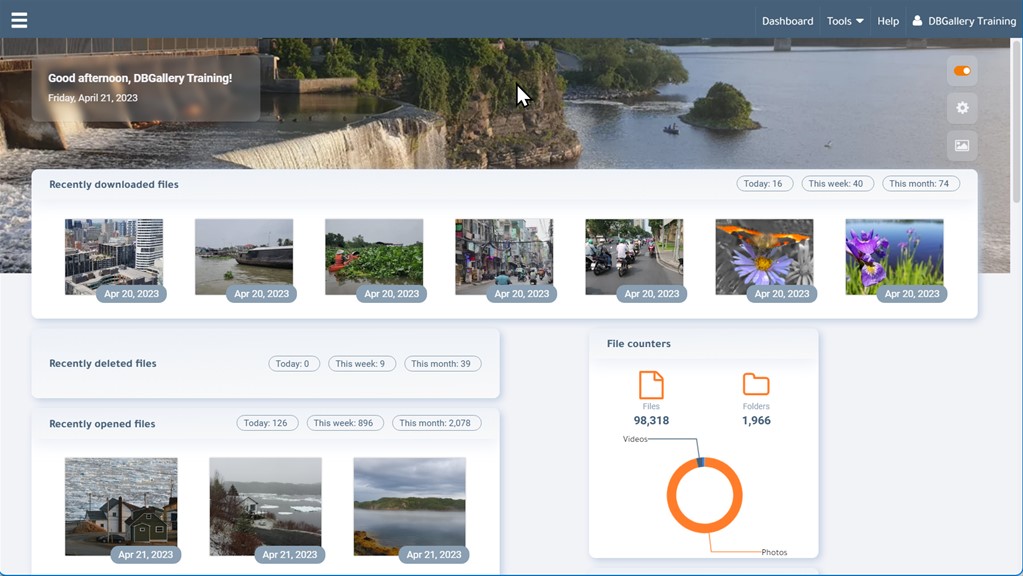 Dashboard Fix Also related to the dashboard, this update fixed the issue where newly uploaded files would sometimes appear in the dashboard as being recently viewed as well as recently updated. They now show as Recently Added only. Also, downloaded images used to be counted in the recently updated count, but no longer.
Viewing Existing Role and User Permissions
Which Folder and Collection permissions a role or user has currently been assigned can be displayed as shown below. To see those current permissions, edit a Role or User; the bottom of those respective pages displays the list.
It is very convenient to edit permissions directly from this list. The Folder and Collection name is an active link and will open the permissions page for that item. Scroll to the appropriate role or user when that page opens because it doesn't choose them automatically.

Audit Trail Results Count
The audit trail has always been a great place to monitor activity. With the new count of results, it can be used as a usage report. For example, select a date range and an audit type of download or shares opened, and the count of that activity is shown. In the screenshot below, a count of the number of downloads (165) for January 24 to April 25, 2023 is shown (and of course the full delails of that activity is shown below that count, as it always has).

Smaller updates and fixes
The display of Team Storage on the Accounts sidebar has been improved for those with terabytes of files.
Fix: Some log files would sometimes be missing in system preferences Log tab.
Fix: Some accounts did now allow the purchase of extra storage on the Accounts page. This has been resolved for most account types
Various other smaller or backend updates to improve your experience and the system's performance.
---
Related Knowledge Base pages:
---