Digital Asset Management Versioning
How does your company manage multiple versions of its digital assets like images, videos, and PDFs?
Do you have a way to save new versions over time? How do you cope with old and recent version control? What happens if something gets overwritten?
Digital assets have doubled in quantity over the past 15 years.
Managing multiple versions of those assets adds extra strain to a team. They require access to current files but also need to refer to the previous work.
This article examines digital asset management versioning. We examine what an asset management system is and what it does. We explain how version control works. Then we share the real-world benefits of asset versioning.
Read on to discover how to best manage your company's digital files. And become more productive in the process.
What Is Digital Asset Management?
A digital asset is a computer file that provides value that can be searched and shared.
The main types of digital assets include:
Images, graphics, and photographs
Video and audio files
Office documents like Word and Excel
PDFs
Architectural drawings
What separates a digital asset from, say, a picture taken on a phone is its intrinsic value. In other words, the asset needs to benefit the company in some way and make itself useful.
Digital Asset Management (DAM) organizes, stores, shares, and retrieves assets.
They differ from content management systems which usually deal with text-based documents. DAM focuses on creative media and provides a way to categorize those assets so that they're discoverable in the future.
How Does DAM Work?
DAM software helps to make digital assets accessible by assigning keyword-specific data to each file.
For example, think of a photograph taken at a company product launch event. It needs to include information relating to the date, location, and who attended. Other data like the person who took the picture, image dimensions, or related news stories should also link.
DAM software uses this metadata to help find and manage it. And that includes keeping records of different versions of the files.
Digital Asset Management Versioning
All computers have a basic digital asset management application, like Windows Explorer on a PC. However, these apps offer little in the way of organization. Especially when it comes to versioning.
Asset versioning lets a company manage multiple versions of a file.
An example would be a proposed new corporate logo. Ten versions exist, each with a slightly different font style or color, yet all relate to the same image.
A basic management app would require 10 separate files, each with a unique name like logo-1.jpg. But a DAM system keeps the current file to the forefront and hides the others.
Benefits of DAM Versioning
The global digital asset management industry is growing at an annual rate of 16.3%.
The reason? DAM versioning is now a critical tool in the workplace to manage an ever-increasing library of digital assets.
In a recent Econsultancy report, DAM systems were found to benefit companies in three ways.
Cost reductions through streamlining workflows
Increase revenues through brand consistency
Reduction of risk through greater control
These are general DAM benefits but what about versioning in particular?
Here are 5 ways that digital asset management versioning can make any business more productive.
1. History Revisions and Team Collaboration
It's essential for a large team of people to view a history of important digital assets. Team workflow relies on being able to see how a file changes over time. It helps identify what works best and if they're going in the right direction. Versioning control displays multiple versions of images as well as data files. It's easy to revert to an older version if the current production path isn't right. That's why DBGallery lets teams pick from any point of the file's history and make it the top version.
2. Overriding Older Assets
Accidentally working with an older asset wastes time and money. Identifying the current asset while restricting older versions is critical for all team members. For example, if an image no longer represents a company's brand it should be overridden. With image management version control it's simple to mark a version or asset as obsolete. DBGallery even allows version history to be trimmed. File versions that are no longer required can be deleted.
3. Comparing Versions
DBGallery boasts an important feature where teams can compare the latest version and an older version at the same time in a side-by-side view.
This makes edits easier to identify. It also allows members to choose the best version moving forward. In the case of client or approver's revisions, requests can be compared over multiple drafts. When revisions or edits of those assets get added new versions are automatically created. They in turn get compared until the workflow is complete.
4. Always Retain Value
Every version of an image potentially has value. Versioning retains all that value forever! There's no need to worry about overriding a draft of an image because it's always retained. Accidental edits and overwrites are now a thing of the past. Just open the version history and revert back a few steps. Photo management has never been so easy!
5. Related Searches
Our Software as a Service (SaaS) can host thousands of your digital assets and expand as you grow. You can choose to keep everything on-site at your business premises or in the Cloud. Searching those assets and their versions is core to our software. And one of the added benefits of versioning is displaying related searches. Results show every related file which can help spark creativity through discovery. Querying 'red rose' will return the most relevant results first but also assets that match in some way. Amongst thousands of images, teams may spot something they didn't know existed. Then they can use those assets in other projects.
Full digital asset Version Control with DBGallery
Is your business swamped with multiple asset versions? Are you afraid they might get misplaced or overwritten? Then it's time to act by using our digital asset management software.
DBGallery provides the perfect solution to help you access and share your asset versions.
Our software is smart, reliable, and offers outstanding performance for any size of a digital library. Automatic versioning and version history help our customers manage all their precious assets.
To show how confident we are that our software will solve your DAM needs, we're offering a 15-day free trial.
Contact us today to discuss your requirements.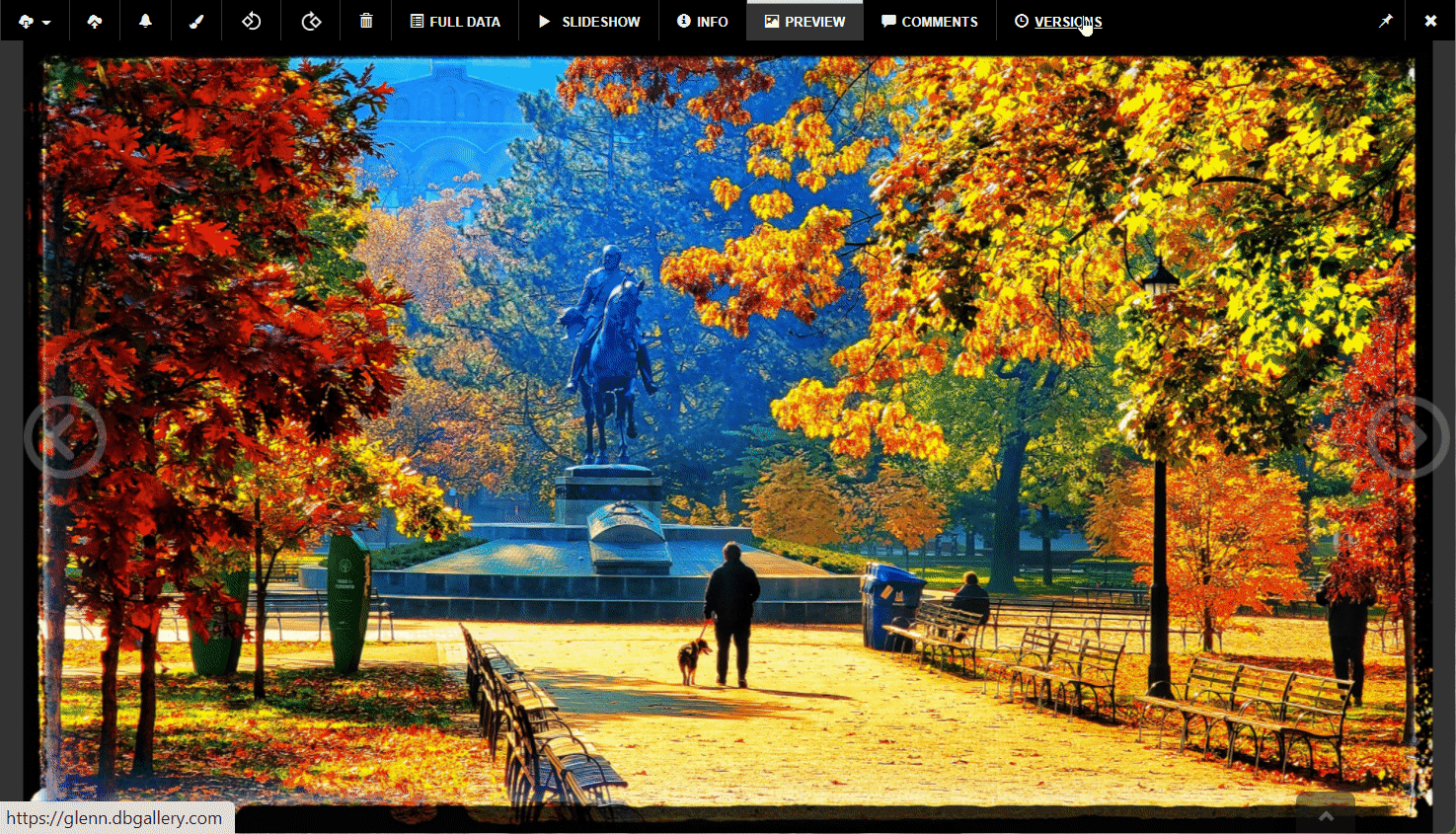 Above: DBGallery's Side-by-Side view of different versions of an image.
---