Released on Dec 4, 2020, enhancements of this release include Workflow, Version Control, Annotations and the ability to subscribe to action notifications. Thereare numerous other upgrades in this major release as well.
Workflows
Workflows in DBGallery enable image asset life cycles.
A simple example: Newly added images are automatically tagged as New. When the original uploader or another team member edits the metadata, they set its workflow status to Partial Data or Data Complete. Once all data for an image is entered, it moves to Data Complete.
The simple but useful aspect of this example of a workflow is that when newly uploaded images are automatically set to New or when set to Partial Data, team members tagging images don't have to hunt around for images that don't have data or don't have a complete set of data.
Workflows can be used for more complex scenarios as well, such as whether images are in a draft stage or is customer approved.
Workflow setup page: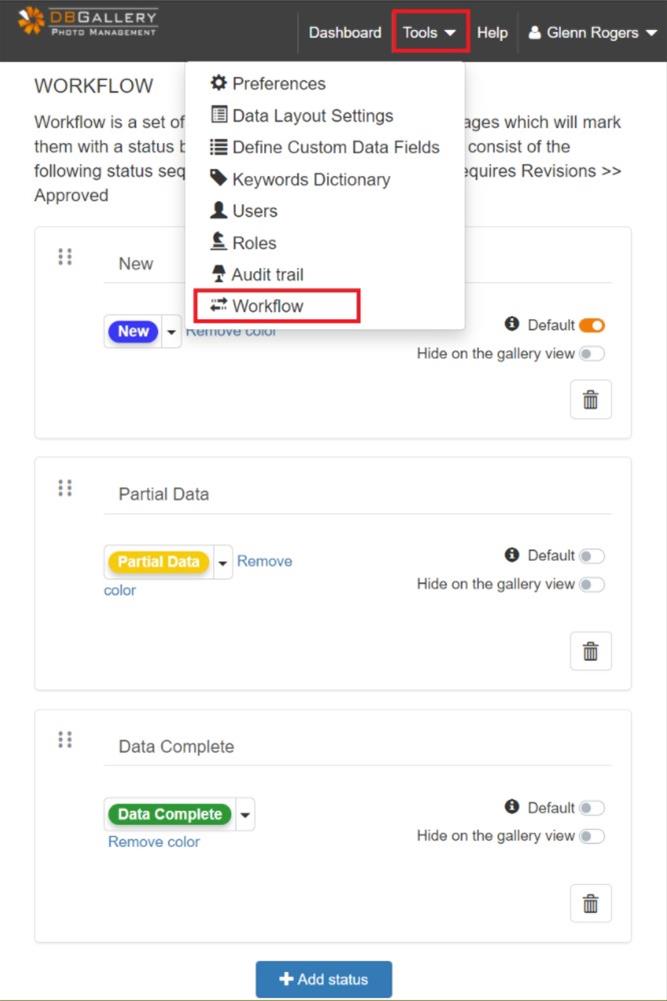 Workflow status shown above search results: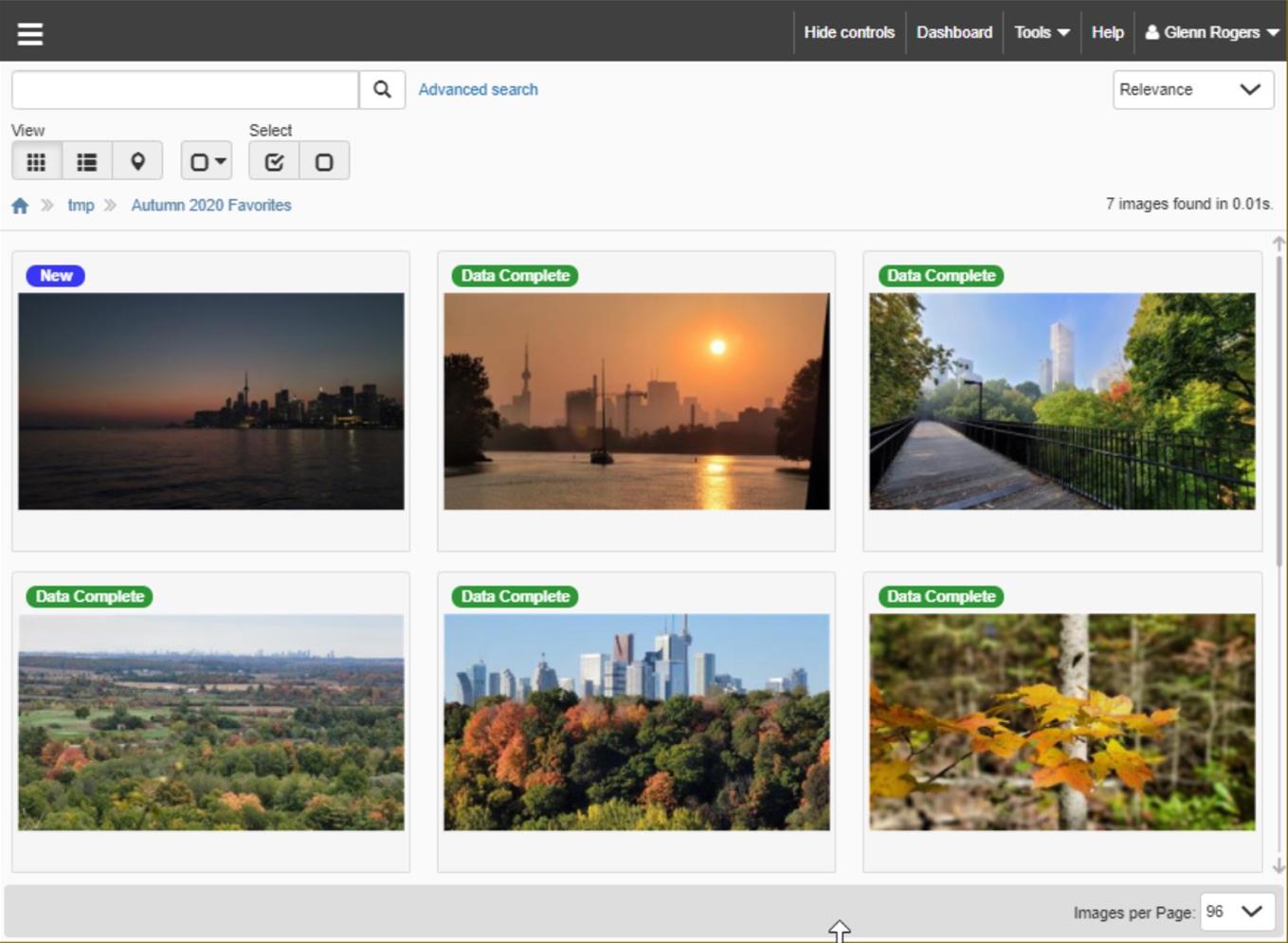 To change workflow statuses, open the file. Among the metadata you will find a status that can be edited.
Features of Workflows include:
Define a custom workflow. (Multiple workflows are coming to DBGallery soon);
Workflows states are color coded and shown as a color strip atop image thumbs in search results;
Get notified when an image status changes by subscribing to an action notification. (Described below).
Version Control
Versioning in DBGallery allows multiple versions of the same file in the system while only the latest version is shown in search results. Older versions are available in the Versions panel (press Versions when in image preview).
NOTE: With Version Control being implemented new in this release, files and data versions are available going forward only. I.e. There will be no file or data version info for anything added prior to v11.
Features of version control in DBGallery include:
Being able to upload different file type for a given files (perhaps the draft was a jpeg file, but the latest is in photoshop format);
Replace the current version directly from the preview window
Metadata versions are visible to show a history of data changes made to an image. This makes an excellent addition to activity/audit logging because each image show who has made what changes to data;
View a side-by-side comparison of older versions and compare to the latest, and zoom in to see the details of each.
Restore older versions of a file, making them the latest version so show in search results;
Download an older versions of a file;
Clear the entire Version history and leave only the current one.
See also: Our blog Digital Asset Management Version Control: What Is It and Why Is It Important?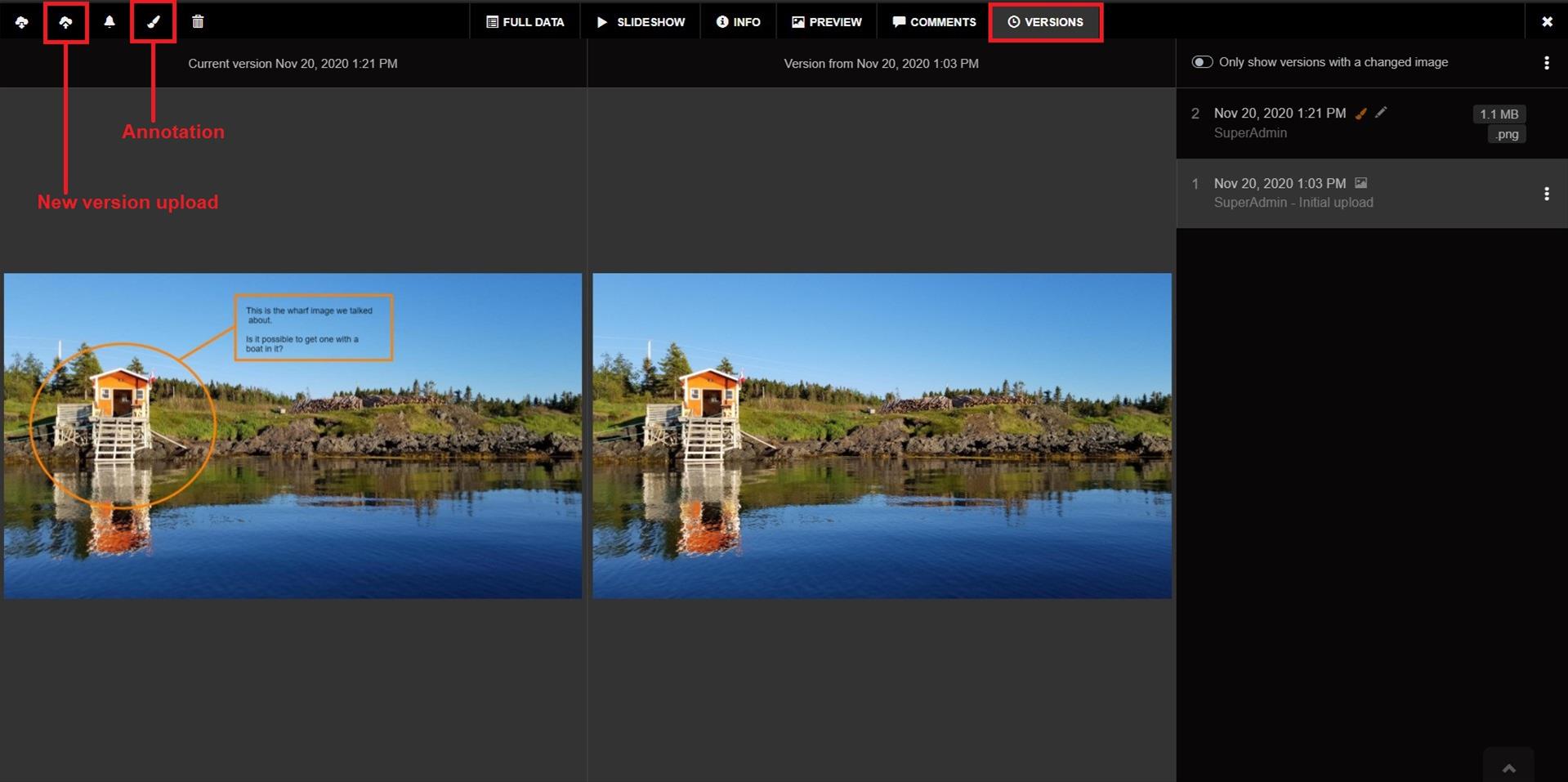 Annotations
Annotations can be used to quickly make notes or highlight objects in a photo or graphic. The toolset allows drawing lines, circles, rectangles, arbitrary shapes, making a polygon selection, and adding text.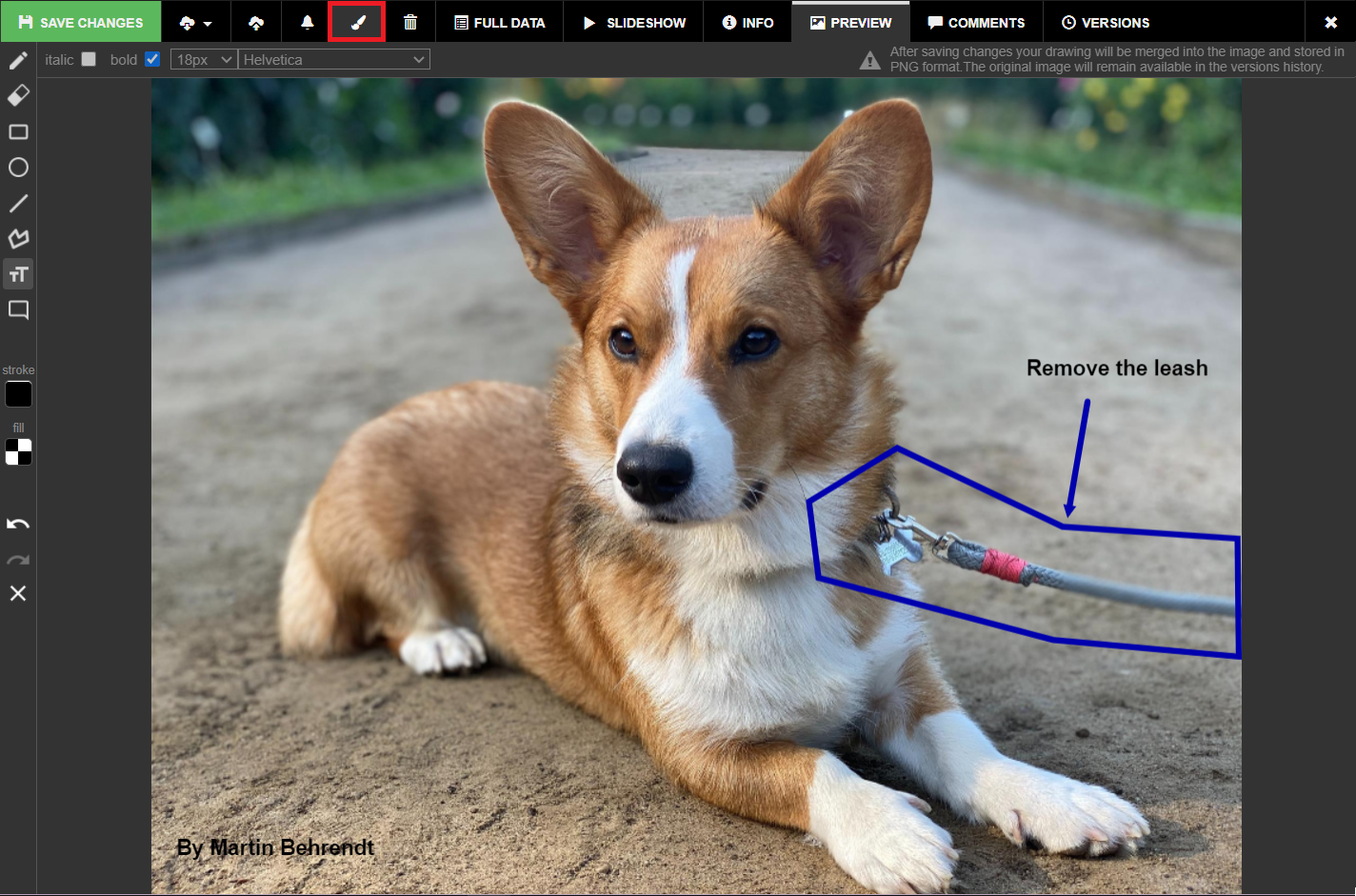 There is an event you can subscribe to receive image annotation notifications anytime someone else makes an annotation. This is great for knowing someone on your team, or a customer, has annotated an image (details below).
Subscribe to Action Notifications
This feature allows receiving email notifications about certain actions taken with folders, collections or images, such as adding or deleting files, commenting on, or viewing images via a shared link.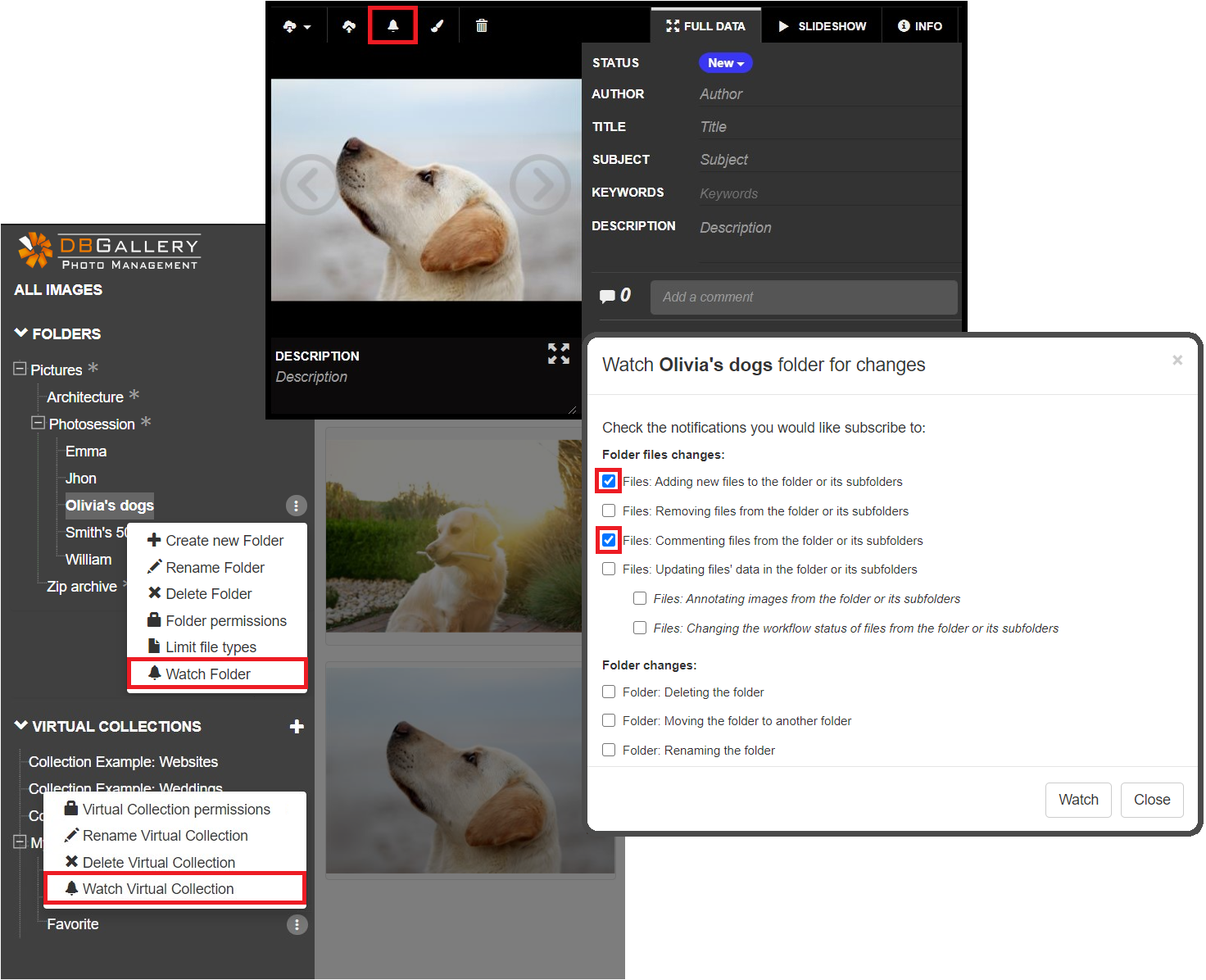 Mark actions on a Folder, Collection, or specific File and be aware when the event will take place.
Examples:
1) For instance, your colleague is processing files from the last photoshoot. When he finishes, he will upload them to the specified folder. You would like to know when this will happen without disturbing your colleague. Therefore, you can subscribe to the "Files: Adding new files to the folder or its subfolders" folder event and receive a notification that files have been added to the folder.
2) Or another example, you've added an image of your new product and want to know right away if someone commented on it.
3) Or an even more relevant example when Workflows are being used: When someone marks an image workflow status as "Requires Adjustments" or "Approved", get notificied of this event.
Knowledge Base and Support documentation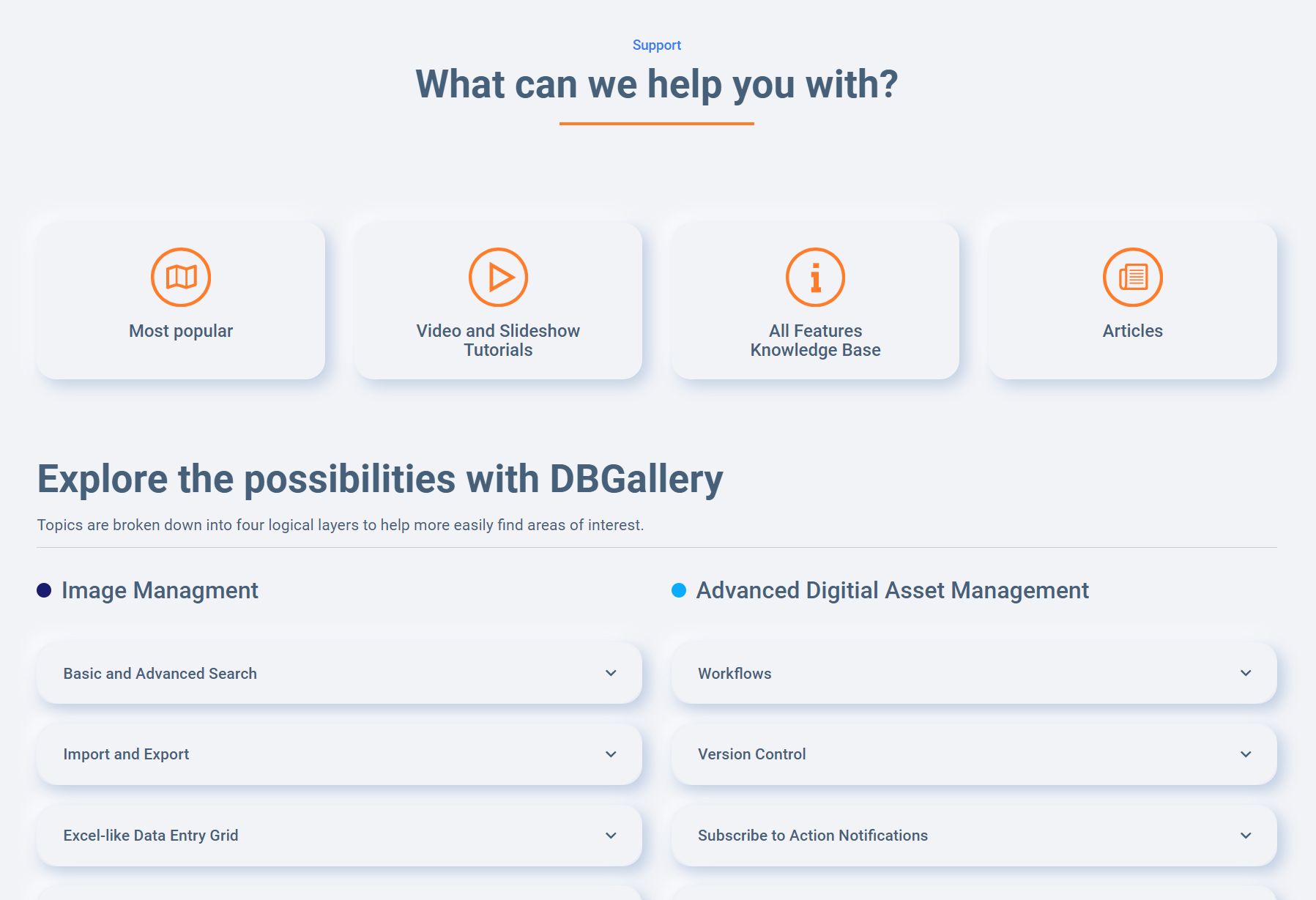 Our help page has been greatly enhanced to make things easier to find, look better, and new content such as a new Knowledge Base area where you can find the answers to many of your frequent questions. It includes video and slideshow tutorials sections, blog articles and more.
Comments video timestamp
The timestamp is a link to a particular time in the video. So rather than looking for some moment that is described in a comment, this enables you to link to a specific time point.
To set a timestamp, press pause or click on the video progress line and then enter a comment. Once Send is pressed to save the comment, a mark with a time appears above the comment area. To start playing the video from the point specified in the comment, click on the time link in the comment. Add as many timestamped comments as are required.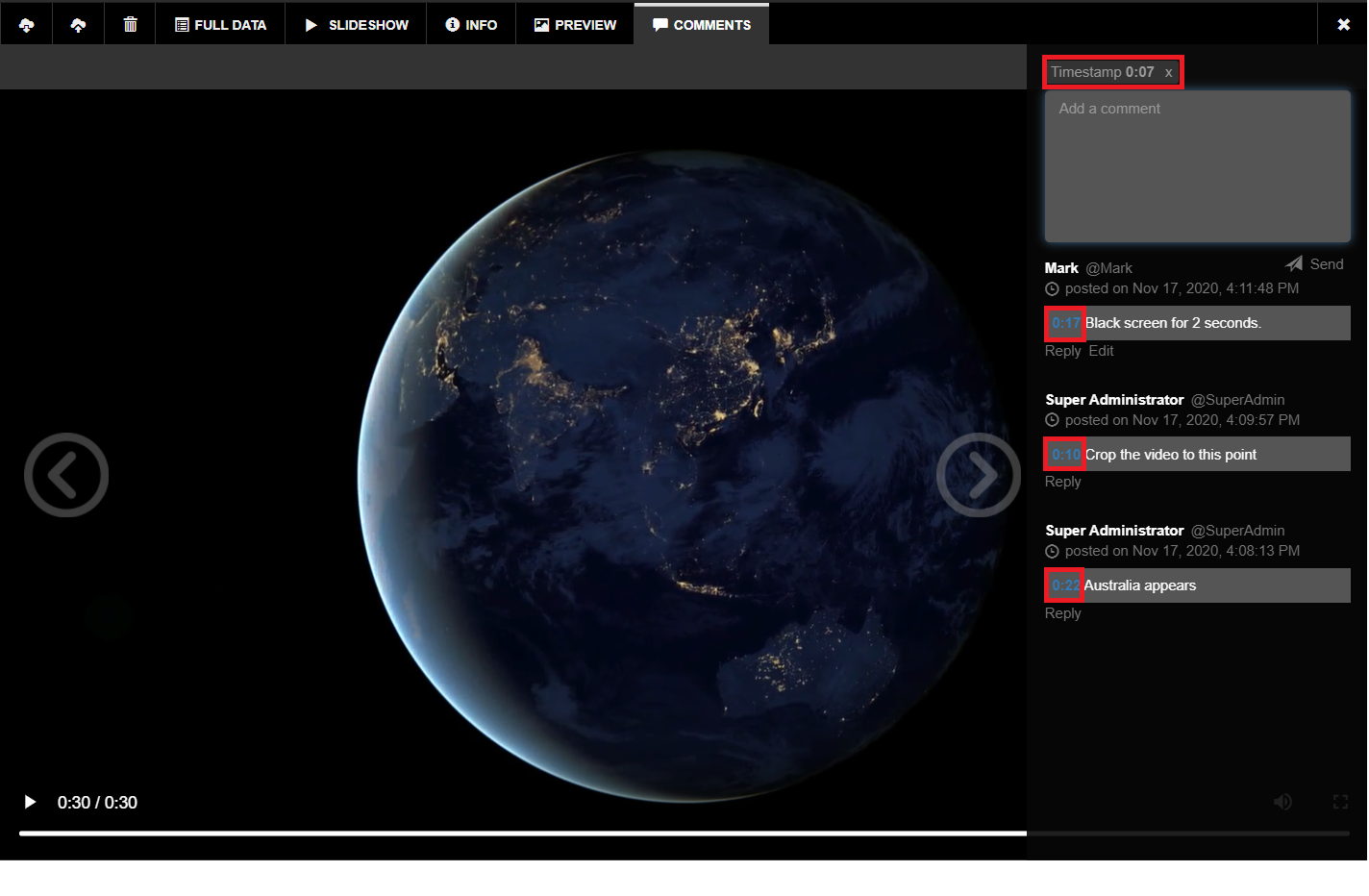 Smaller Items and Fixes
Users and Roles pages have been improved.
Folder names show as Tooltips when the name is too long to be seen in the tree.
Larger logos can be used on the main page to improve white labeling.
Reverse Geocoding runs anytime the location changes to pick up the new street, city and country data.
Improved video processing: 1) .h264 encoded videos no longer need to be processed as they are already stream-ready; 2) data can be immediately added even while videos are being processed.
Keywords may now be separated by semicolons as well as commas.
Fix: A . (dot) at the end of a folder name no longer causes issues.
Fix: Exif data now shows in the Grid View.
---