Released on March 25, 2021 (v11.6)
Welcome to the March release of DBGallery. We have a number of updates. The larger ones being a major refresh of the Data Layout setting page, improved version/audit history on a per image basis, an updated API, a new option to redirect to an external URL rather than native preview, and the ability to do a full preview of images directly from Maps and Grid Views. There are also a number of smaller improvements to the interface, performance enhancements and fixes.
Data Layout settings UX improvements
This change provides a far better user experience when making data layout changes to DBGallery's various pages. The method for changing layouts is the same via drag a field from "All available fields" and drop to "Preview" or visa versa, but that is now much clearer. If the UI improvements themselves weren't enough, there is now a help section with animated how-to's and graphics indicating where those data layout changes apply.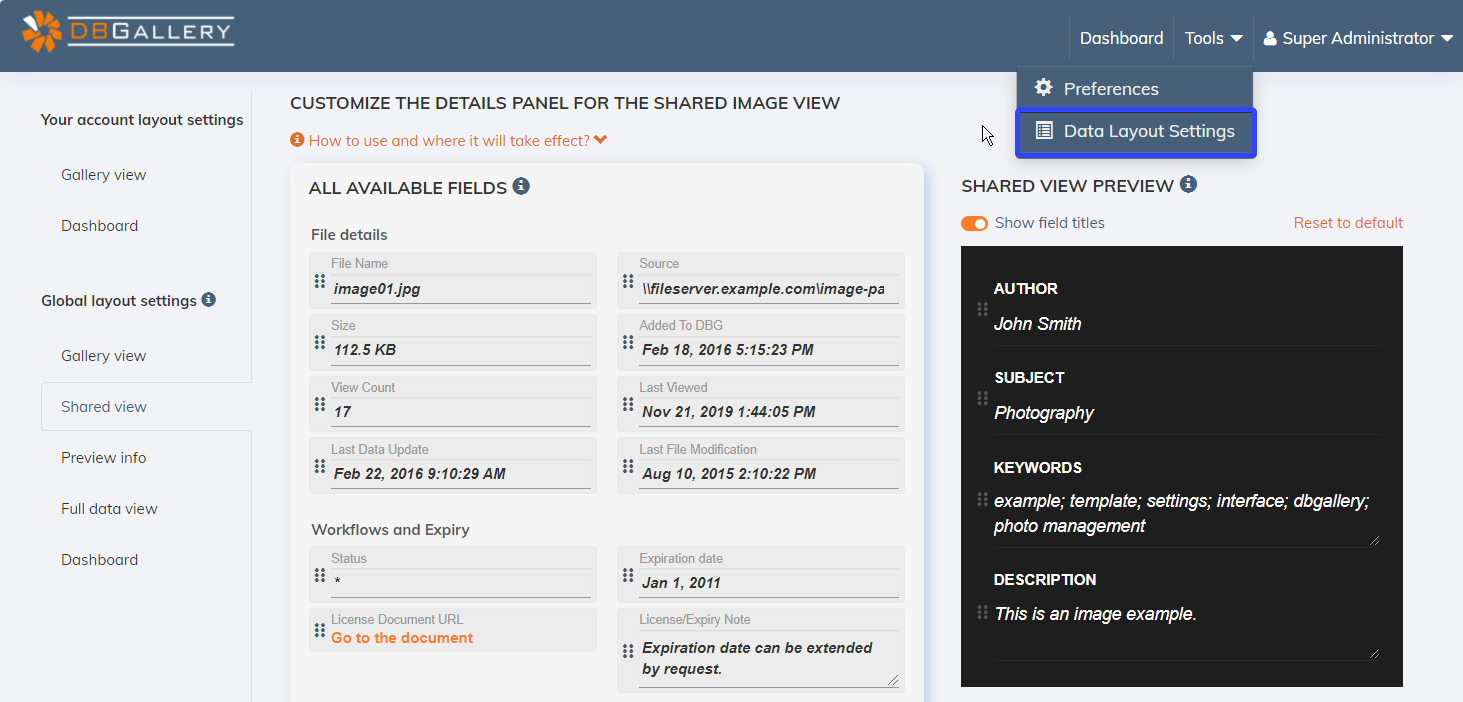 View all available image changes from the Versions tab in Preview
We added info about actions made on the file to the version history (the 'Versions' tab in the Preview). It now includes all records that we collect and display in the Audit Trail page. This is important because previously it wasn't possible to view activity of specific images in the Audit Trail. Now view any specific image to see all activity events captured within the system. We've also added the convenience of expanding or collapsing all entries to make viewing easier. Read more about the importance of audit trails in Digial Asset Management system in our blog: What is a Digital Asset Management (DAM) Audit Trail and Why it's so Important.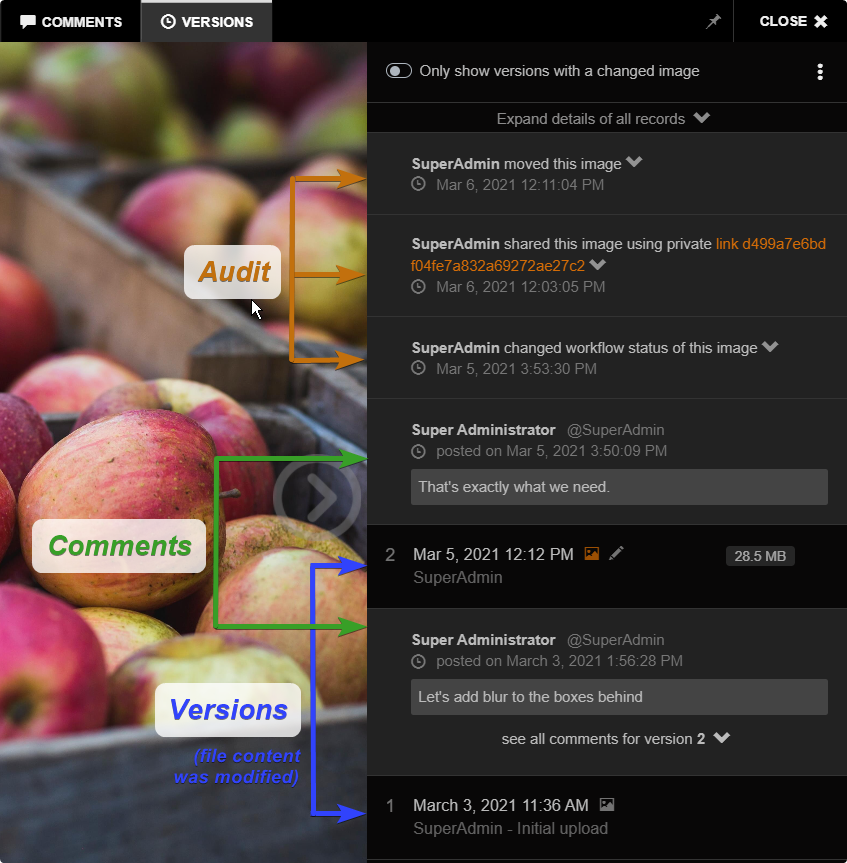 Full Image Preview from Maps and Grid Views
Prior to this release, Preview of images was done from Gallery and Masonry views only. They may now be opened from Maps and Grid views. For Grid View, this is a great option when editing an image's data from the Grid wasn't quite enough. It's now possible to pop into a full Preview to do complete data editing, view versions, add comments, etc. In Maps View, as an example of this new convenience, if an image is known to be in the incorrect location or new metadata needs to be added, just click a map marker or thumbs on the map and click Preview.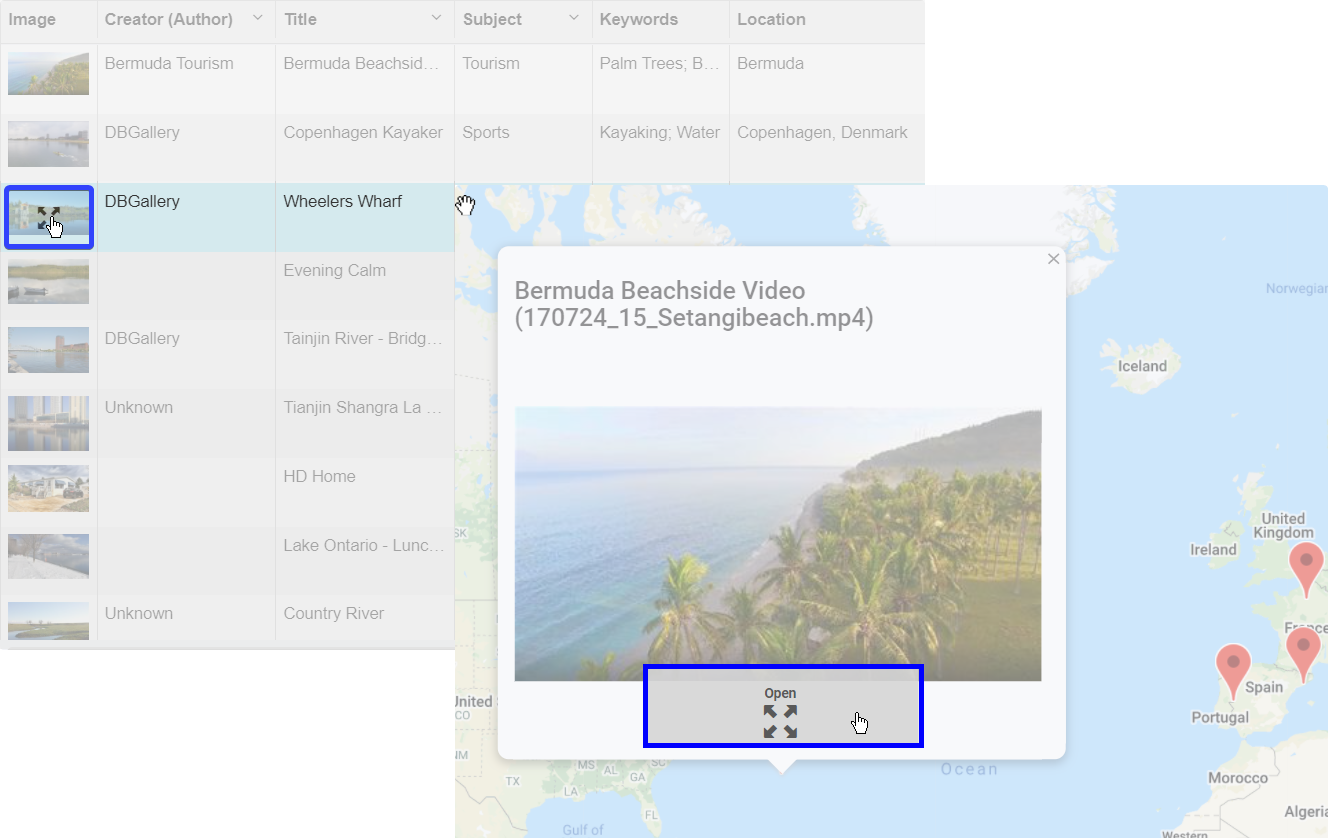 API
DBGallery's Application Programming Interface has had updates and improved documentation. It's a great way to interact with our web application, especially when integrating with other applications within your organization.
Extended Preview possibility with an external URL link
For image file formats where their isn't a great viewer within DBGallery, such as 3d images, it's now possible to set Preview to an external URL. To change the Preview button behavior visit the 'Data Layouts Settings' page, select the 'Full data view', 'Shared view', or 'Preview info' tab, drag and drop the "External Url" field from 'All Fields' to the layout on the right. Then go to image thumbs, find and open a file you would like to point to an external URL. Fill in the "External URL" field. That's all. The next time someone opens the file they will be redirected to the entered URL in a new tab.

Faster Preview
Improvements have been made in the way the thumbs bar in preview is loaded. The image is now loaded prior to loading the thumbs bar, and that thumbs bar is loaded significantly faster.
Dashboard Improvements: Most Active Users and Most Popular Keywords
There are new small enhancements to make the dashboard more useful. Click a keyword in the Most Popular Keywords widget and the left-side tree will scroll to the selected Data View item before displaying all thumbs for that keyword. Click a user in the Most Active Users widget and the audit trail opens with filtered results based on the clicked username.
Other enhancements
New Preview thumbs scrollbar which helped to improve performance;
Automatically scroll to the selected thumb in the Preview's thumbs slider;
A fix where Advanced Search options didn't take effect when clicking Apply in some scenarios;
Updated styles to the Gallery View thumbs.
---